Farm mapping software
gpMapper
The mapping engine inside gpMapper is used as the basis of the PAM Mapping Module and our FarmStar program.
To get a complete understanding of the mapping module in PAM and gpMapper, the complete mapping manual can be downloaded here Mapping Maunual
Developed from the ground up to perform at speed on today's PC's it has many new features not found in other mapping systems. 
Features such as ...
 LIVE GPS MAPPING
»
 GPS Offset function (easily map drains, fence lines etc..)
»
 Track movement over time or distance
 LAYERS & LAYER MANAGEMENT
»
 Infinite number of Layers
»
 Group layers into an infinite number of Layer Groups
»
 Use drag & drop to reorder Layers and Layer groups
»
 Use drag & drop to merge Layer contents
»
 Individual Layer visibility setting
»
 Layers can be locked to stop accidental adjustment
VIEW MANAGEMENT
Working with maps is all about locating yourself somewhere and looking at the data. With one click gpMapper will get you exactly where you want to be.

gpMapper utilises a 'View' system. Position yourself at the right spot for a map, with only the layers you want visible selected? Save it as a view. Simple. You can have as many views as you want. Skip from Tasmania to Western Australia, Canada to Mexico with a single mouse click. gpMapper knows exactly what data to load to display the view you selected.
 MAP OBJECTS
gpMapper features a full suite of objects that you can add to your map, including Circles, Polygons (or "areas" or "regions"), Rectangles, Lines, Points, Symbols and Text. The print layout also makes other object types such as North Arrows, Scale Bars, Legends and Map Views available which can be sized and relocated. 
'Filled' objects such as Circles, Polygons and Rectangles can be filled using more than just a hatch pattern. Choose from a wide range of textures and colors for a professional looking map.
 DATA MANAGEMENT
If you've used mapping system before, you know all about loading and saving individual map files. gpMapper bypasses all that by using a live database to store data. This means that all you have to do is tell gpMapper what area of the world you want to look at, and gpMapper automatically loads any data within that area for you.
 DATA IMPORT/ EXPORT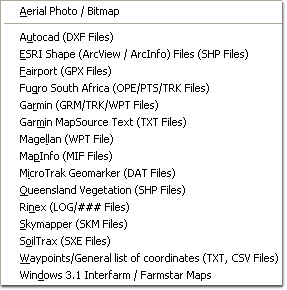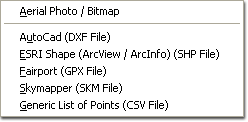 gpMapper also has a complete map import/export format which supports layer and layer group import/export. gpMapper even provides the facility to export partial sections of your map.
Below is main menu options within the PAM Mapping Module. 
Below is the "Autogrid" settings screen... one of the many useful utilities in the Fairport farm mapping software module.