PAM - FieldRex - Crop monitoring & recommendations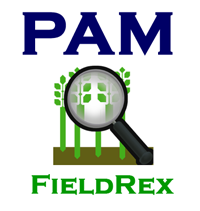 ready to run on your mobile devices ...

PAM-FieldRex - A special cut-down version of PocketPAM2 for your consulting agronomists.
Here's how it works ... 
Farmers: If you have PAM 8, PAM MTE or PAM EE, your consulting agronomists are entitled to use PAM-FieldRex to send field recommendations to your PAM free of charge. You'll need to prepare your PAM system for data transfer with PocketPAM2 using the FDE (Fairport Data Exchange). All the instructions you need can be found on the PocketPAM2 web page.
Agronomists: Firstly Fairport needs to know about you. Send us:
your name, business name and contact details and...

the personal username you would like to use with your PAM-FieldRex.

We will supply you with the "unlock" code that will enable you to transfer data from & to the PAM software on your client's office computers.

Then ...
Arrange with your client's to include

your

PAM-FieldRex

username

into their PAM Mobile Devices users list. Tell them your personal "unlock code" ... they will need to put that into their PAM settings screen to enable you to receive data from & send data to their PAM.  

Now all is in readiness...

Use the FDE (Fairport Data Exchagne) to fetch your client's farms and paddocks lists and other lists and annual paddock summary reports and maps...

Visit your client's farms,

Do your crop monitoring using the gpsScout module ... record the geo-locations of your observations if you wish, 

Record your recommendations using the FieldRex module.

Send your records to your client's PAM program via WiFi or 3g. Yes ... simply push those records to the client's PAM program with the "toPAM" button!

That's it!

 
So ... help yourself to PAM-FieldRex on the Google Play or Apple App Store and start recommending! 
To find out more on how the software and data synchronization works, visit the PocketPAM2 web page. 

Field Rex
Designed to be used by consultants to record in-the-field recommendations. The recommendations will appear as recommendations in the PAM program after syncing. Additional features include a facility to SMS or Email recommendations to clients and contractors.

gpsScout
used for crop scouting. Crop Observations, Pest & Disease scouting and weed scouting records can be entered. A GPS reading can be taken along with the crop monitoring record. In conjunction with PAM Mapping, a layer of observation sites will be made for each scouting mission, if the GPS option is enabled. gpsScout can also be used to collect waypoints in the field. The layers of scouting points and waypoints can be uploaded to PAM Mapping.