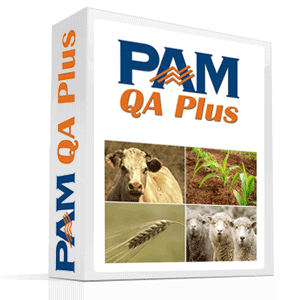 Australia's market leader and award winning production recording software used by farmers, Departments of Agriculture and CSIRO research stations and Agricultural Colleges across Australia. The Enterprise and Mid-Tier Enterprise versions of PAM QA Plus are used by corporate farming enterprises in countries as diverse as Sudan, South Africa, New Zealand, Brazil, Russia and Ethiopia. 
The History
Development of PAM started in 1988. PAM 1.0 was released in the spring of 1989 and was an instant success in the mixed farming areas of Australia.
With the assistance of the School of Agriculture, University of Western Australia, the livestock section of PAM was enhanced significantly in 1989-1990 and has been improved over the 20+ years since to become  "the best herd management software in the world", according to a Danish company we are working with in Eastern Europe. 
As the 1990's progressed, PAM was adapted to suit operations across Australia, New Zealand and South Africa. The PAM UltraCrop and Viticulture versions were 'split off' from the original version in the late 1990's. Today, PAM is used in every corner of the world. 
Cropping
Budget, Plan and Record all your activities for crop establishment, harvest and monitoring  -  from cotton to alf alfa to canola, beans to barley ... sugar cane to soya beans ...  . Literally 100's of reports, graphs and map reports have been built over the years to deliver the most benefit possible. Add on the PDP - Precision Data Processor  module to PAM for a powerful, complete crop grower's package. 
Livestock
No matter how large, small or different is your livestock operation - PAM is  suitable for all livestock operations and types including pastoralists ... from the Western Districts of Victoria to the West Kimberley... from the Cape Leeuwin to Cape York, PAM QA Plus is keeping track of mobs of cattle and sheep.
Easily move mobs on the farm map or using PocketPAM2 and use the powerful suite of paddock grazing and stocking rate reports, graphs and map reports to get a better understanding of your grazing pressures and carrying capacities.
Gross Margin Analysis
Keep track of all your costs and income and use the powerful gross margin reports to understand which production areas are giving you problems, which are the winners.  
Measure Performance 
Analyse your water use efficiency -  Comprehensive rainfall and weather graphs and crop vs crop / paddock vs paddock reporting gives you a clear picture of your efficiencies
A Complete Production Recording System. 
Paddock records are difficult to keep manually and almost impossible to analyse. All farmers know the value of the information that escapes them as a result. 
The power of PAM is the result of over two decades of development. Thousands of clients with diverse needs have provided feedback and suggestions to keep PAM at the cutting edge. PAM just keeps getting more and more powerful, more and more useful
              Take advantage of over 20 years development